Khoisan Sulphate-Free Shampoo 250
KS250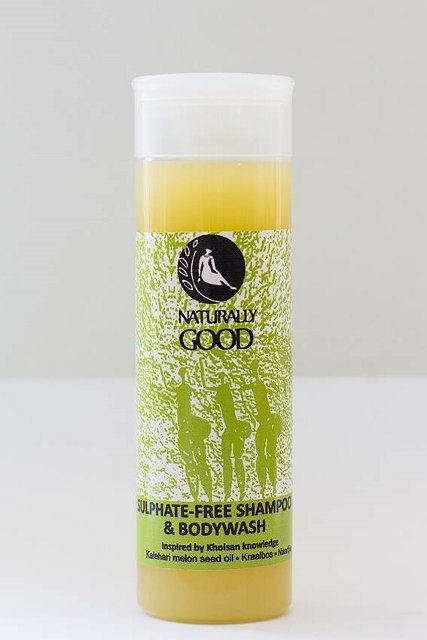 A superior natural based shampoo and body wash that is free of sodium laureth sulphate.
Description
NATURAL SHAMPOO is a mild shampoo and body wash base for use in the home and hospitality industries.
Product Benefits
Made from Natural, plant based sources
Does not contain sulphites
Biodegradable
Does not contain artificial dyes or fragrances
Non-irritating
Provides and efficient clean
Contains moisturizer
Can be used in soap dispensers
For Home, Food & beverage or Hospitality use
Ideal for babies and children
Composition:
Aqua, Lauryl Glucoside, Sodium Lauroyl Sarcinosate, Coco DEA, Glycerine (plant based),Galena African (kraalbos); Organic crystal salt; Potassium Cocoyl Hydrolyzed Collagen, Methyl Glucose Trioleate, Sodium Benzoate, Potassium sorbate; Naartjie (Tangerine) & Lemongrass oil, Kalahari Melon Seed
Directions for Use
Wash hair with approximately 5 -10mls NATURAL SHAMPOO and water. Rinse off thoroughly. For best results, use the NATURAL HAIR CONDITIONER thereafter.
These Naturally Good Products with a Purpose range, is dedicated to Krotoa , the first young Khoisan female, used by the Dutch Settlers as an interpreter & negotiator. She was instrumental in introducing them to indigenous Khoisan cultures. The Khoisan tribe are hunters & gatherers and used plants to eat and heal themselves. We celebrate the amazing, healing, traditional plant ingredients by using the omega rich kalahari melon seed oil, the anti-bacterial, anti-fungal Kraalbos and the Kalahari rock salt. We use natural naartjie and lemongrass oil to subtly fragrance our products.